Emma's 2nd Strawberry Birthday Party
Are you planning on throwing your little one a strawberry birthday party? In todays post, I will be sharing Ems 2nd Strawberry Birthday Party. 
Ever since Em was a little baby she has absolutely loved strawberries! Strawberry also happens to be one of her first words and first foods. I don't think a day has gone by where she hasn't had a strawberry to munch on. Lucky girl! Lol 
Whenever we go grocery shopping she will ask for a basket of the red Barrie's and surely will munch on them as we make our way through the store.
It only seemed natural to pick strawberries as the theme of my daughters 2 year young birthday party.
If im being honest, I'm still quite a bit in amazement that's it's been 2 years and yet it still seems like yesterday that she was a tiny little newborn. Now she is a curious, chatty, happy and loving toddler who is always up for an adventure to the park. 
All in all, I'm very excited & grateful for this wonderful new chapter in our lives & im just trying to soak it all up as much as possible.
It's bittersweet watching your baby grow, & celebrating the milestones is a great way to keep on making those wonderful memories and moments that will be cherished forever.
Let's dive in! 
The Dessert Table 
For the dessert table this year I decided to do a variety of strawberry themed treats and desserts.
I did a strawberry cake, a dessert board, strawberries treat cups, mini cakes, a macaroon tower and chocolate covered strawberries. 
I will break them down throughout this post for a closer look. 
The color palette was colorful & cheerful for this party which made it really perfect for a 2 year old. It was definitely just right! 


Strawberry Birthday Party Color Palette 
Since the theme is strawberries, I wanted to play around with the natural colors of a strawberry.
Strawberries are either red or pink, and have green leaves. Strawberry plants also bloom white flowers with yellow centers. So essentially I just went with the natural colors of a strawberry plant in pastel hues. 
You could definitely choose to go for more vivid and vibrant shades instead, but my only concern was that since I had green & red together, I wanted to avoid the party looking like Christmas. So pastel shades for the win on this one. 
Pink 
Red 
Pastel yellow 
Pistachio green 
White 
Strawberry Theme Cake
I love how this strawberry theme cake turned out! It's exactly what I described to the cake maker. I asked for a two tier pink cake with hot pink strawberries and mini daisy flowers with green polka-dots. 
The inner cake was a funfetti with vanilla cream.It was lovely!
I got this cake from a local bakery in Newburg Oregon called Sprinkles Of Joy. I absolutely adore the turn out! She did a beautiful job and made the cake exactly as I had envisioned. I was super impressed! 
Pink Dessert Board
Similar to a charcuterie board, except made with treats and sweets. Dessert boards add such a fun flair to any party. They create interest and boost curiosity. It's the perfectly imperfect piece that keeps getting your guests up to pick a new treat and talking to one another. 
The desert board contained a mixture of treats. Here's the breakdown:
Round mini strawberry cakes topped with strawberry chocolate 
Strawberry chocolate dipped oreos 
Mini daisy cakes 
Strawberry chocolate cakes
Strawberry shortcake star cookies 
Strawberry shaped chocolates 
Chocolate chips 
I made all of the desserts at home except for the shortcake cookies which I found at Trader Joes. They don't always have these cookies in stock, so when I found them the last time I was shopping, I picked up a couple of boxes and froze them until the day of the party. 
 S
mall Mold Cake Ideas
For a strawberry party, I had to make strawberry cakes of course! Mold cakes are so much fun, especially because the turn out can be so magical. I am not an expert baker by any means, but I know how to make chocolates and cake, and that's enough to make a beautiful arrangement. It took me a couple tries in the beginning to get them just right, but after I had the formula down they were easy enough to make. You can really make any type of cake you can imagine, as long as you have a mold for it. 
Since finding strawberry cake molds and chocolate molds for baking were nearly impossible, I actually ended up using silicone ice cube trays to make these and they worked out great. 
Here are a few of the other mini cakes and cake molds from the party. 
Daisy cakes 

Cylinder strawberry cakes 
Strawberry cake 
Wooden Cake Sign
I got this custom made wooden cake sign from The Birch Wood Market on Etsy. She was amazing and made the beautiful custom design cake topper for Emma's birthday cake. 
No Bake Strawberries And Cream Dessert
This was such a scrumptious and easy treat that made a charming finish to the dessert table. It was only 3 ingredients to make this recipe which I will share in a later post. It's simple, fresh and beautiful. I used small crystal mason jars to display these in and it was the perfect size. 
Super Easy Chocolate Covered Strawberries
It seemed like I couldn't throw a strawberry birthday party without chocolate covered strawberries. These are so simple to make and in turn create an elegant and yummy display. 
I will have to share my super easy 3 ingredient recipe for these chocolate strawberries which were a hit. I also use the same recipe to make chocolate & peanut butter banana bites. This recipe is also great for fruit in your fridge that are slightly overripe, but still totally edible. 
Macaroon Tower
Macaroons are my favorite cookies ever! Not only are they beautiful and elegant, but they really do complete a party! They are scrumptious little bites of deliciousness that are festive, elegant and beautiful. A perfect party treat.
I did not actually make these, but these are most definitely a fab find! I found them at Costco. Can you believe it?! I got 3 boxes of these and it was the perfect amount. They are seriously so good AND I used to get a macaroon for breakfast several times a week at bouchon bakery in Yountville CA, (one of Thomas Keller's restaurants) to go with my morning coffee. I have no complaints here. 
Savory Hors d'oeuvres
For the savory treats, I decided to go with mostly finger foods. The party was hosted at 11 which is brunch time and perfect for small pickings. Also, kids love finger foods. There's something about small snacks that are just the best! These types of snacks are also great for serving at parties because they keep your guests moving around and picking which creates a more casual and conversational atmosphere. 
Personally, I don't love a sit down meal at a birthday party. Of course, you can do whatever fits your personal style. But I love the casualty of being able to move around and keep peckish. There's too many people to talk to, too much to do and not enough time to sit down still and eat. I like to reserve these types of meals for a good ol' fashioned dinner party, with a more intimate setting, or smaller group of guests, if you catch my drift. 
Savory Hors d'oeuvres served 
Cheese boards

Fruit board
Veggie board

Quinoa

 salad 
Smuckers PB&J
Caprese salad bites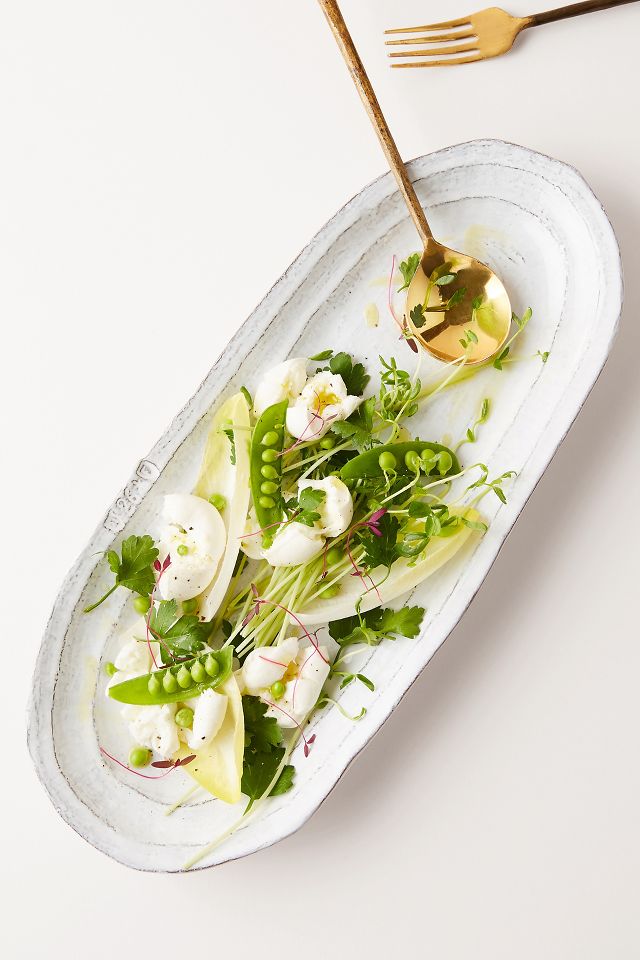 Shop serving tray HERE
Strawberry Party Decorations 
In terms of decorations, I usually go pretty light. I actually try to avoid things like paper birthday banners, paper decor or too many small single use decorations. Mostly, because these items can add up quickly and I would just be throwing them away after only a couple hours of use. As cute as these types of decorations are, I find them to be too much extra work for just a few hours of use.
I actually prefer to decorate with edible "decor" to create a party theme. Guests seem to enjoy these as they can take them home as party favors or snack on them while at the party. 
Decorations I used
Decorative serving trays

Decorative serving utensils 
Cake stands 
Flower bouquets 
Balloons 
Cake topper 
Linen table cloths 
Bubble machine 
I love to decorate with flower bouquets, balloons and decorative foods. I also have a collection of decorative trays from over the years that really complement any party. I use them several times a year for several various parties.
I started my decorative tray and cake stand collection when I was just 18. It's a perfect way to decorate without having to buy new decorations for each and every party. Especially if you love to throw parties. Of course, quality trays can be spendy, which is why I randomly will add a new piece when I see one that will seamlessly fit into my collection. 
I have purchased several of my trays from various boutiques & wineries in Napa Valley CA. West Elm & anthropology have a beautiful collection of serving trays and serving trays.  
Shop Cake stand HERE
Shop Cake Stand HERE
Shop Cake Stand HERE
Overall, I was so excited to throw this party for my sweet 2 year daughter! I love celebrating milestones and throwing fun parties. It's such a joy to get everyone together and treat ourselves and indulge a little. Afterall, life goes by fast and we want to make memories that last a lifetime. That's the important bit right there. 
Wood Toddler Picnic Tables
I ordered these two super cute wooden picnic tables from ikea. Each table would comfortably seat 4 toddlers or two older children.
I had asked for a headcount originally so I would know how many people would arrive and I am glad I only got 2 instead of 3 because it ended up being the perfect amount. There were about 12 children but they didn't all sit at the table at the same time so it worked out perfectly. 
If you plan on having all of the children sit down for food at the same time you will likely need more tables depending on the amount of kids. 
I am totally in love with these cute wooden mini picnic tables! They are charming and too cute. This was an awesome place for the kids to sit and enjoy their snacks and cake. 
Birthday party activities
For the activity we did a mini dip pool which we filled with shallow water. We also had a bubble machine going for the kids, music and wind up water toy turtles that swim in the mini pool. It was the perfect entertainment for 2 year olds on a hot summer's day. 
Activities for 2 year old party
Mini-dip pool 

Bubble machine 

Balls 

Music

Balloons 

Outdoor games 

Wind up turtles and water toys 

Toys 
Strawberry Fun for Everyone
Whether you're a kid or a kid at heart, Emma's strawberry birthday party had something for everyone. Emma's strawberry birthday party was the place to be for all dessert lovers and strawberry enthusiasts. It was a pink paradise of strawberry delights and fun. Cheers to another fun birthday party celebration in the books celebrated with our favorite people! 🍓💕😍
Next Up Check Out Emma's Daisy Garden 1st Birthday Party HERE
Check Out These Related Posts Next
Leave a comment